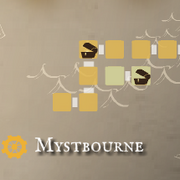 Mystbourne is one of the dungeons of the game. You can find it on the lower right of the map, after clearing Floor 37, and is one of the most dangerous places in the game. Do not expect to clear this dungeon until very late in the game.
It is composed of five levels, four of which rank level 33 and the last one level 35.
You will be rewarded with 1× Zoning Permit on your first time clearing the five main levels.
All items (5)