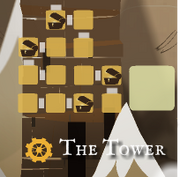 The Tower is at the center of the map, and it's the most important dungeon of the game. It's composed of different sub-dungeons, called Floors. The floor level is equal to its difficulty ranking.
As you climb higher in the tower the story will unfold, revealing new information about your heroes and what happened to their village. New buildings, items and dungeons will also be made available to you.
Ad blocker interference detected!
Wikia is a free-to-use site that makes money from advertising. We have a modified experience for viewers using ad blockers

Wikia is not accessible if you've made further modifications. Remove the custom ad blocker rule(s) and the page will load as expected.