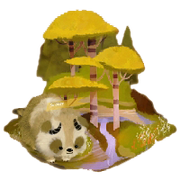 Fuzzlehorns are cute. Disturbingly cute. They were useless for a long time. But now...
Game Mechanics
Edit
A Fuzzlehorn Habitat costs 49

. Feeding a Fuzzlehorn a particular item produces a particular "result" (see table below). You can set the number of items to give to it. The resulting item(s) are obtained immediately, but the Fuzzlehorn cannot be fed for another 30 minutes. Re-feeding time can be lower for some items.
Using Rally, Grinns can talk to Fuzzlehorns, and each time this happens 3 Happiness points are earned. (Unlike with other production processes in the game, Rally can't be used to speed up the Fuzzlehorn's recovery time after being fed).
Known recipes:
Edit
Ad blocker interference detected!
Wikia is a free-to-use site that makes money from advertising. We have a modified experience for viewers using ad blockers

Wikia is not accessible if you've made further modifications. Remove the custom ad blocker rule(s) and the page will load as expected.