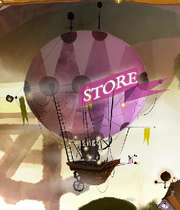 The floating balloon found above your city to the left, owned by Hameil.  You can purchase various goods here using Pramins.
Items currently available
Edit
Items that were sold in the past
Edit
↑ 1.0 1.1 They were a result of the "PROJECT: EXTREME GRINN SUPER-MAKEOVER Contest" of December 18th, for which the winners were Noot (Grinzzlehorn) and Nuppmiddt (Dagrinn). Source: Related official forum thread.
Ad blocker interference detected!
Wikia is a free-to-use site that makes money from advertising. We have a modified experience for viewers using ad blockers

Wikia is not accessible if you've made further modifications. Remove the custom ad blocker rule(s) and the page will load as expected.