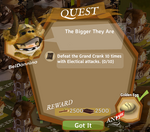 id="Metal Gearhead"
Name
Target
Reward

Text

The Secret Path Continues

Hunt

Pokey Potsie

3

Kill Pokey Potsie. Who Lurks On The Secret Path In Higland Falls 3
Chemical Hazard
Hunt

Shocker Shoo

? AFTER: There's no reason for us to stay here any longer than necessary. Let's split up, look for survivors and get out of here!

On the Golden Tower
Collect at least 50

Golden Egg

s

4

? AFTER: Awesome! I hope we get more challenges like this in the future.

Tower Slickers 2: The Legend of Grinn`s Gold
Collect at least 200

Golden Egg

s

6

This quest rewards you for collecting 200 Golden Eggs. I hope they'll be easy to find in the future.

AFTER: Wow, you did it! It's good to know collecting all those eggs was worth it!

Nothing Gold Can Stay
Collect at least 500

Golden Egg

s

8

 ?

Master of the Elements

Defeat 100

Poison Spider

s with

Electrical Attacks

?

AFTER: Remember to exploit an enemy's elemental weakness! It can be the difference victory and defeat.

Danger! High  Voltage!
Defeat 30

Electric Spider

s with

Thermal Attacks

 ?


AFTER:  After all of this is over, we should start a band: Thermal Six. How's that sound?

Metal

Gearhead

Defeat 25 Gearheads
These metal Gearheads are built pretty solid and they have no elemental weakness for extra damage. Maybe it's time to find out which elemental effects work the best for you:

scald

,

shock

or

poison

.
AFTER: That was a good fight! Next up the

Big Boss

on the Floor 37!
The Bigger They Are
Defeat the

Grand Crank

10 times with

Electrical attacks

Tiny

Poison Spider

s are easy. It's time for a real test. Let's teach the Grand Crank a shocking lesson!
AFTER: Once again, we prevail! The tower will need greater and grander challenge to stop us!
Time for cookies
Upgrade your bakery to level 5
 ?
The tower is high
Explore tower level 60
 ?
Arachnophobia
Kill patrick in the secret room of mystbourne 4
 ?
 ?
Kill Tom Thud in Mystbourne 3
 ?
 ?
Kill Randy Rockskin in Mystbourne 3

3

 ?
What's golden?
Collect at least 10

Golden Egg

s

2

 ?
Just Desserts!
Upgrade the Bakery (Level 3) to Level 5
 ?
Upgrade! Party Time! Excellent!
Upgrade your Item Shop (Rank 3) to Rank 4
 ?
Master of the Elements
Defeat 100 Poison Spiders with Electrical attacks.
(there is a quest for exploring level 51 and 55, but i already completed them so i dont know the rewards)
Ad blocker interference detected!
Wikia is a free-to-use site that makes money from advertising. We have a modified experience for viewers using ad blockers

Wikia is not accessible if you've made further modifications. Remove the custom ad blocker rule(s) and the page will load as expected.