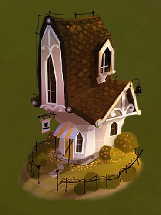 Build the Salon to get different hair for your Grinn heroes.
Some hairstyles must be unlocked with Pramin. Once unlocked, they can be used on villagers free of charge.
Building/Upgrading
Edit
The Salon is available from the beginning. But players must first accumulate enough Happiness before the building can be built or upgraded.
| Rank | Resources Cost | Time | Happiness |
| --- | --- | --- | --- |
| 1 | 400 200 | 01:00:00 | 50 |
| 2 | 1000 600 | 01:00:00 | 230 |
Salon Production

| Style | Gender | Availability | Resources Cost | Time |
| --- | --- | --- | --- | --- |
| The Siberian | Male | Free | 50 50 | 00:00:05 |
| The William James | Male | Free | 50 50 | 00:00:05 |
| The Valentino | Male | Free | 50 50 | 00:00:05 |
| The Shanuzer | Male | Free | 50 50 | 00:00:05 |
| Turkish Hair | Male | Free | 50 50 | 00:00:05 |
| Owl Hair | Male | Free | 50 50 | 00:00:05 |
| Lad Hair | Male | Free | 50 50 | 00:00:05 |
| Plain Jane | Female | Free | 50 50 | 00:00:05 |
| Cute Pigtails | Female | Free | 50 50 | 00:00:05 |
| Maid | Female | Free | 50 50 | 00:00:05 |
| Parker Red | Female | 8 | ?  ? | 00:00:05 |
| Parker Brown | Female | 8 | ?  ? | 00:00:05 |
| Parker Blond | Female | 8 | ?  ? | 00:00:05 |
| Doris Red | Female | 8 | ?  ? | 00:00:05 |
| Doris Brown | Female | 8 | ?  ? | 00:00:05 |
| Doris Blond | Female | 8 | ?  ? | 00:00:05 |
| The Keystone | | Free | 100 100 | 00:00:05 |
| The Dali | | Free | 100 100 | 00:00:05 |
| The Amish | | Free | 100 100 | 00:00:05 |
| Houdini Hair | | Free | 100 100 | 00:00:05 |
| Easy Rider Hair | | Free | 100 100 | 00:00:05 |
| Lulu | | Free | 100 100 | 00:00:05 |
| Bettie | | Free | 100 100 | 00:00:05 |